Chinese Kale, also called Gailan or Chinese Broccoli, has glossy, blue-green leaves with crisp and thick stems. This vegetable adapts well to cold and hot climates and is grown all year round in California. After the first cutting of the main stem, the plant will grow many branches for subsequent harvests.
---
F1 HYBRID LATE SEASON 7578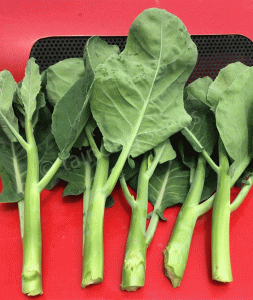 Product Details:
Cold tolerant , slow bolting type
Dark green leaves
Matures ~65 Days
---
F1 HYBRID GREEN JADE 翠 綠 芥 蘭
Product Details:
#1 variety for fresh market. Industry standard.
Early maturity type, 45~50 days to harvest.
Vigorous & uniform hybrid.
Long, smooth stems with medium green leaves.
---
F1 HYBRID EMERALD GREEN 綠 華 芥 蘭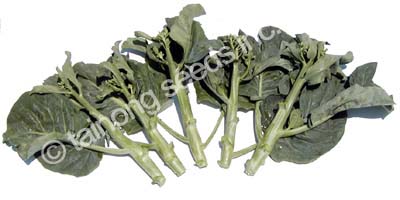 Product Details:
Medium class hybrid, 50~55 days to harvest.
Thick stems with dark green leaves.
---
GREEN LEAF GAILAN 綠 葉 白 花 芥 蘭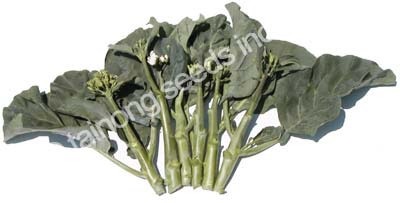 Product Details:
Top selling, high yielding O.P. variety.
Smooth, dark green leaves with long, thick stems.
Excellent uniformity in size and shape.
Good tolerance to heat.
Very strong against disease.
For Spring, Summer, and Fall.
Maturity in 50~55 days.
---
BIG GAILAN SUM 嫩 莖 大 芥 蘭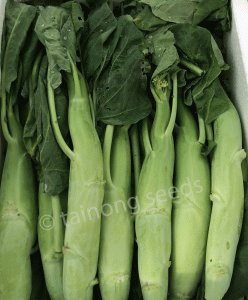 Product Details:
Giant size gailan, excellent crispy taste for slicing
12-18 inches long, tolerant to cold, slow bolting